Picnic Ban: A Projection of Hate Policy
Emel Altay
24 Haziran 2021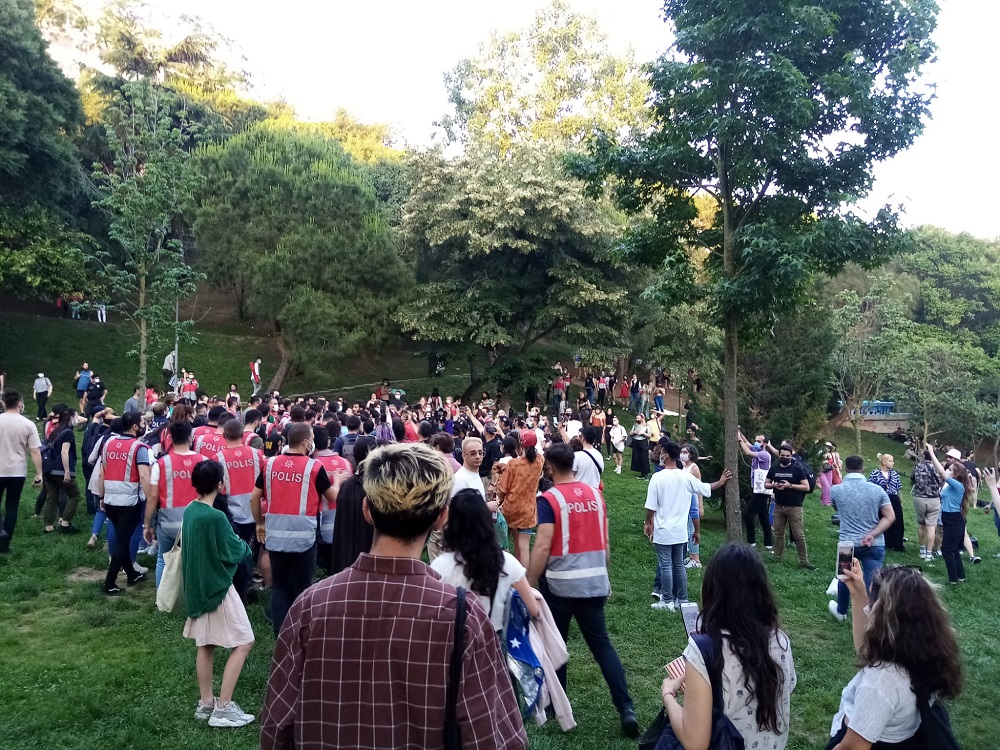 The vegan picnic that was intended to be held in Maçka Park as part of LGBTi+ Pride Week events was prevented by the police intervention. What happened is completely against the law, lawyer and activist Levent Pişkin said. "The bans against the LGBTI+ community are the outcrop of a hate policy that has been increasing in dose since 2015."
The picnic event, which was intended to be held in Maçka Park as part of LGBTI+ Pride Week activities, was prevented by a ban from Şişli District Governor's Office, issued an hour before the event, and then by police intervention. Despite all official hindrances, those who tried to gather in the park were either not allowed to enter or were subjected to police violence. During the events, a person was taken into custody, while another person's arm was broken.
Organized as a part of the Pride week celebrations, the vegan picnic event was originally planned to be held in Heybeliada, one of the four Princes Islands of Istanbul; but was taken to Maçka Park, when the owner of the business on the island flipped out of fear. A ban was issued hours before the event to be held on Tuesday, June 22. Despite this, those who wanted to gather in the park faced police intervention. Istanbul LGBTI + Pride Week organisers announced with video posts on the event's Twitter account that many participants were battered, one person's arm was broken, and one person was detained by the police. A later post, read that the detained person was released, and called on those subjected to police violence at the event to receive forensic assault reports.
Lawyer and activist Levent Pişkin was among those in Maçka Park. Pişkin said that the ban on the event in the park and the intense police intervention are part of a policy of hatred towards LGBTI+. Adding that the attitude towards the picnic to be organized as part of Pride Week is an extension of the discourse and actions of the political power against the LGBTI+ community, Pişkin emphasized that this is an intense projection of the hate policy that has been gradually increasing since 2015.
According to Pişkin, what happened cannot be explained by law. Underlining that they experienced a state practice that contradicts both the Constitution and the international conventions – which Turkey ratified, Pişkin said, "First, the event that was intended to be held in Heybeliada was moved to Maçka Park because of the threat of the owner of the business. On the same day, an unlawful ban was issued by the Şişli District Governor's Office."
'Regarding the Rainbow Symbol as Illegal Is Unconstitutional'
In the event, police teams held the entrance of Maçka Park and searched the bags of those, who wanted to enter the park, and checked their clothes. Those who had any clothes, accessories, or items with rainbow colours on them were not allowed in the park. Pişkin emphasized that this practice is also unconstitutional: "The practice regarding the rainbow flag or the symbols used by LGBTI+s is openly contrary to Article 26 of the Constitution titled 'freedom of expression and dissemination of thought', as well as to Article 10 of the Constitution, which regulates equality."
According to Pişkin, these events aim to criminalize the LGBTI+ community and points to the efforts of prohibition of the LGBTI+ existence: "This is all sorts of discrimination and means that the state, which has the obligation to treat everyone equally, establishes a hierarchy among its citizens and criminalizes the existence of a group/section. Banning images and visuals that symbolize LGBTI+s essentially constitutes a ban on LGBTI+ existence, de facto LGBTI+ existence is prohibited."